Barriss Offee was released in 2006 with the Champions of the Force set.
This Jedi Knight is an expert in tandem fighting working with her partner through the Force to forge an unstoppable duo.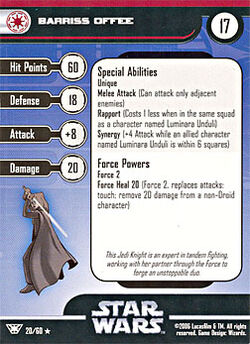 Ad blocker interference detected!
Wikia is a free-to-use site that makes money from advertising. We have a modified experience for viewers using ad blockers

Wikia is not accessible if you've made further modifications. Remove the custom ad blocker rule(s) and the page will load as expected.