The Imperial Knight was released in 2008 with the Legacy of the Force set. There are two versions of this miniature. The first version depicts Ganner Krieg. Its the twentieth miniature of this set. The second version shows Sigel Dare. Its the twenty-first miniature of this set.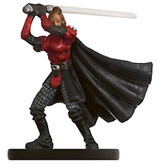 Ad blocker interference detected!
Wikia is a free-to-use site that makes money from advertising. We have a modified experience for viewers using ad blockers

Wikia is not accessible if you've made further modifications. Remove the custom ad blocker rule(s) and the page will load as expected.