The Rebel Storm Starter Set was released on September 3, 2004 and was originally retailing for $19,99. This starter set contained the Luke Skywalker, Rebel and the Darth Vader, Dark Jedi miniatures, as well as 8 random Star Wars miniatures. It also contained full-color game stats cards, a fold-out battle grid, eight terrain tiles, a 20-sided dice, a rulebook and a Rebel Storm set checklist.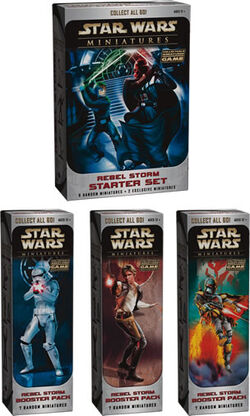 Ad blocker interference detected!
Wikia is a free-to-use site that makes money from advertising. We have a modified experience for viewers using ad blockers

Wikia is not accessible if you've made further modifications. Remove the custom ad blocker rule(s) and the page will load as expected.