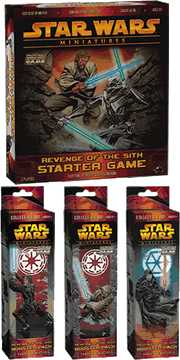 The Revenge of the Sith Starter Set was released on April 2, 2005 and was originally retaling for $24,95. [1] This starter set contained miniatures of Obi-Wan Kenobi and General Grievous, two Clone Troopers and two Super Battle Droids. It also contained counters, a 20-sided dice, quick-start rules, an advanced rulebook a full-color game board and full color game Stat Cards.
Notes and references
Edit
Ad blocker interference detected!
Wikia is a free-to-use site that makes money from advertising. We have a modified experience for viewers using ad blockers

Wikia is not accessible if you've made further modifications. Remove the custom ad blocker rule(s) and the page will load as expected.