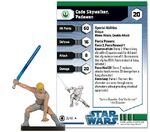 Every Star Wars miniature figure comes with a stat card. On this card, you can find the powers of the character, including its Cost, Hit Points, Defense, Attack, Damage, the character's Special Abilities (if any), its Force Powers (if any) and its Commander Effect (if it has one). On the stat card you can also find the character's name, the character's faction, its number and its rarity.
Ad blocker interference detected!
Wikia is a free-to-use site that makes money from advertising. We have a modified experience for viewers using ad blockers

Wikia is not accessible if you've made further modifications. Remove the custom ad blocker rule(s) and the page will load as expected.